---
---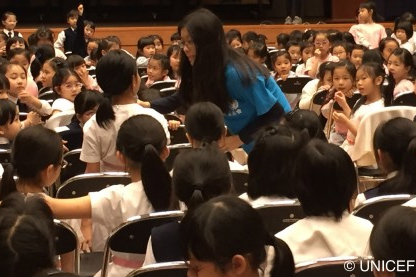 The act of serving the community is a merit that should be encouraged and also used to inspire others.
Why do we think it is important?
HKUST encourages students to be involved with their communities, to be global citizens, and to share with those who are less fortunate.
Why pledge?
Those who demonstrate leadership, enthusiasm and compassion in creating long-term community programs that affect change are recognized by our AEF Community Services Awards.
Recipients
Click here to read the interview of Amanda Fung Tsz Yan, award recipient 2016-2017
How is the money used?
Each year, a cash award of HK$5,000 is granted to a maximum of five HKUST full time undergraduate and post-graduate students who have demonstrated leadership and dedication in volunteer services, which have had direct impact on regional or global issues.
The cumulative donations received from alumni are treated as the principal balance of the Alumni Endowment Fund (AEF) and is maintained in perpetuity. The principal is the basis of sustained annual income from various investments forming a reliable and viable source of support for many beneficial projects for students.
Click here to learn more about Alumni Endowment Fund (AEF)
For direct donation, please use the online form. Your generous support will be eligible for tax deductions. For donors who would like to support HKUST with their United States-based assets, they can enjoy tax-deductions by contributing to our non-profit partner Give2Asia. Please download and complete the Give2Asia form.
What is the process for consideration for the AEF Community Service Award?
Students who are interested may apply through the Student Affairs Office (SAO). Shortlisted applicants will be invited to meet with the selection panel, which is composed of the Dean of Students, the Director of Student Affairs, faculty and staff members, a student and alumni.
For more information about the program, and to learn how to apply, please visit: https://sao.ust.hk/eng/detail.php?catid=34&sid=181