---
---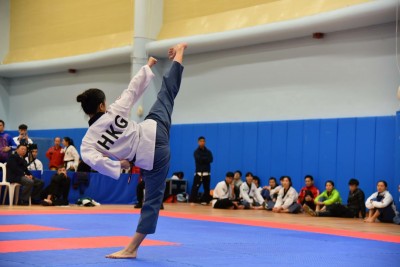 We foster the culture of active lifestyles and the participation in sports, as athletics offers many positive physical, mental and social benefits not only to the individual, but also to broader society.
Why this is important?
HKUST understands the importance of education and the significant impact of holistic, balanced well-being. AEF Athletic Scholarships are offered to students who have proven achievements and potential in regional or international competitions. Sports development is worthy of promotion because it fosters comprehensive education. This in turn will help cultivate the culture of sports on campus.
Why pledge?
The AEF Athletic Scholarship is offered to undergraduate students who have achieved recognition in sports competitions at the regional or international level. Selected students are granted HK$20,000 - 30,000 (renewable) towards their tuition, and to date the program has supported 16 students, for a total allocation over HK$800,000.
Words of Gratitude from Recipients of AEF Athletic Scholarships for UG Students
Click here to read the inerview of Jessica Chan Cheuk-Lam (2015 & 2016 awardee) on her expereince with WuShu
How will your money be used?
Each year, selected students receive HK$20,000 - 30,000 towards their tuition. This amount is renewable each new university calendar year.
The cumulative donations received from alumni are treated as the principal balance of the Alumni Endowment Fund (AEF) and is maintained in perpetuity. The principal is the basis of sustained annual income from various investments forming a reliable and viable source of support for many beneficial projects for students.
With your donation, we will be able to provide more scholarships to more students and promote sports in Hong Kong, while continuing to emphasize the importance of having a well-balanced lifestyle.
Click here to learn more about Alumni Endowment Fund (AEF)
For direct donation, please use the online form. Your generous support will be eligible for tax deductions. For donors who would like to support HKUST with their United States-based assets, they can enjoy tax-deductions by contributing to our non-profit partner Give2Asia. Please download and complete the Give2Asia form.
What is the process for consideration of the AEF Athletic Scholarship Award for UG Students?
Students who have achieved outstanding performance in sports competitions and show strong commitment to developing in the sports community may be eligible to apply. For application and details, please click here.